Offer Free UK Postage on Complete Kits ukbhcompkitfreepost 21 Sept 2015
Free UK Postage on Dawn till Dusk Complete Kits only until 6/9/2015. Get yourself some more Freedom, Flexibility and keep your Hens and your Family Happy. Take advantage of this limited time offer and coupon code. For all Orders for delivery within the UK between now and the 21st September 2015. Save yourself £8.00 now, don't delay this offer and coupon code is time and volume limited. Make sure you are one of the lucky early birds. See terms and conditions apply. Offer Free UK Postage on Complete Kit ukbhcompkitfreepost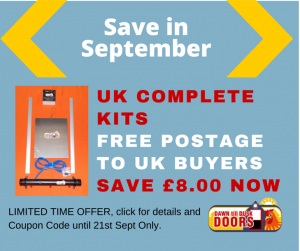 Special Offer UK Free Postage on Complete Kits Terms and Conditions
This Save in September Offer  offer is open to all UK Buyers, purchasing Complete Kits from Dawn till Dusk Doors for delivery to a UK address and subject to the following limits; purchase must be made between 07th September and on or before the 21st September and the volume limit within that period that applies upto but not exceeding the limit set by the company. Be assured we want you to benefit from this offer and hence the volume is set at a realistic level.
Only one offer can be applied to any single orderbut you can purchase upto 3 Complete Kits in any single order. So you can always doube-up with your neighbours or Poultry Club friends.
To claim your discount you need to enter the coupon code on checkout ukbhcompkitfreepost . Copy and paste the code into the Coupon Code as you Checkout and you will be automatically deducted with the £8.00 discount which means postage is free.
If you have any queries please feel free to Contact Russ Moore online here.
Time limited offer to 21st Sept 2015 to help you make the most of Saving in September , come rain or shine.
Buy Your Complete Automatic Door Opener Door and Drinker Kit Here
Buy your Complete Kit and get the full benefit of Free UK Postage by just purchasing here for full details of the Complete Kit.